14 December 2010
Wordwide online tasting of Champagne POL ROGER
Join us in a worldwide tasting of Champagne POL ROGER on December 15th at 7pm EST or PST, online with Frederick Wildman's Martin Sinkoff.

The event will take place on the Frederick Wildman channel at Tastelive.com:
http://ww.tastelive.com/frederikwildman

One logged, you can comment and ask questions about the wines via the "What are you tasting" feed on the center of the screen.
Martin will interact with you online, answering questions, comments and thoughts about Champagne POL ROGER.
The selections of the evening will be:

- Pol Roger Brut Reserve White Foil
- Pol Roger Pure (Zero Dosage)
- Pol Roger Blanc de Blancs 1999
- Pol Roger Brut Rosé 2002

We wish you an excellent tasting!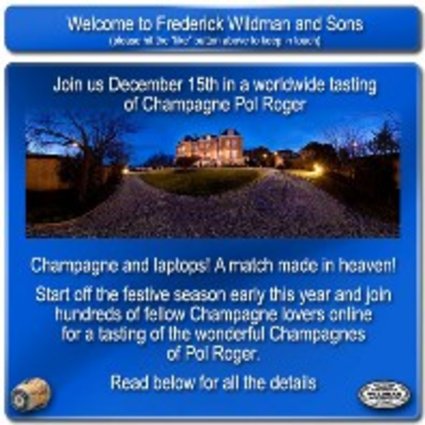 Close