11 February 2012
POL ROGER blind tasting match in Paris
The first blind tasting match organized by POL ROGER for the most famous French schools and universities was held in Paris on February 2nd 2012.

The morning test concerned the following schools:

- Polytechnique
- ESCP
- ESSEC
- SUPELEC
- ENS

The winner was Ecole Normale Supérieure, with Matthieu Solnon, Cécile Lambert and Flavien Cafiero (individual winner).

The afternoon test was gathering:

- Dauphine
- HEC
- Télécom Paris Tech
- Mines Paris Tech

The winning team was Dauphine's with Stéphane Salvadori (individual winner), Quentin d'Escayrac and Guillaume Poillot.

These two teams are qualified for the national final blind tasting match which will be held early April at POL ROGER's headquarters in Epernay with the winners from the other towns (Lille, Lyon and Bordeaux).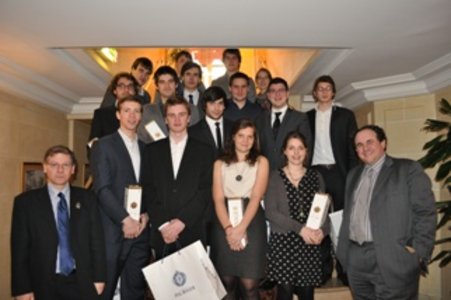 Close