15 February 2013
Blind tasting match bewteen the most prestigious French schools and universities
The Maison Pol Roger has been sponsoring and organizing for some 20 years blind tastings among the most famous schools and universities.
On January 31st and February 1st 2013 we were pleased to welcome eight prestigious schools from Paris :

- ESSEC, Polytechnique, Mines Paristech, Ecole Normale Supérieure and SUPELEC on Thursday January 31st

- ENSTA, ESCP and Dauphine on Friday February 1st

Ecole Normale Supérieure won the first session with the following team: Anne-Sophie Cuvier (president), Florian Cafiero and Marie Puren.

The winners of the second session were Raphaël de Valence (president), Aurélien Lucas and Guillemette de Courtivron, all from Dauphine.

Each winning team received three bottles of Brut Vintage 2002.

Florian Cafiero (Ecole Normale Supérieure) and Aurélien Lucas (Dauphine) as individual winners were offered one bottle of cuvée Sir Winston Churchill 1999 each.

As to the other participants, they were rewarded with a bottle of Brut Reserve.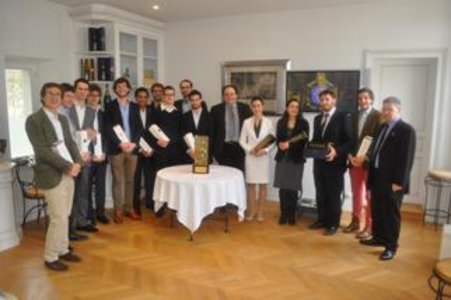 Close