22 February 2013
60 years of the Oxford vs. Cambridge University Blind Wine-Tasting Competition
The 21st February 2013 marks the 60th anniversary of the Oxford vs. Cambridge University Varsity Blind Wine-Tasting Match.
This year, to celebrate what has become an iconic rivalry, the sponsor, Champagne Pol Roger, arranged to hold a simultaneous tasting pitting the Wine Trade against the Wine Press. Teams of seven each from Oxford University, Cambridge University, the Press and the Trade were challenged to taste and identify the same flight of 6 white, followed by 6 red wines, in exam conditions.
In honour of this momentous anniversary Pol Roger set out to deliver the definitive Blind Wine-Tasting Competition with a number of the most celebrated wine producers submitting their top wines for this tasting.
The wines were:

Whites:
- Vouvray, Clos de Bourg, Sec, Gaston Huët, 2011
- Châteauneuf-du-Pape Blanc, Roussanne Vieilles Vignes, Beaucastel, 2011
- Le Montrachet, Marquis de Laguiche, Joseph Drouhin, 2008
- Egon Müller, Scharzhofberger, Auslese, 1987
- Condrieu, Coteau du Vernon, Domaine Georges Vernay, 2010
- Chateau Climens, Barsac, 2004

Reds:
- Saumur - Champigny, Clos Rougeard, Les Poyeaux, 2006
- Vosne -Romanée, 1er Cru, Aux Malconsorts, Dujac, 2006
- Brunello di Montalcino, Riserva, Biondi-Santi, 2006
- Chateau Haut-Brion, Pessac- Léognan, 1995
- Vega Sicilia, Unico, 1953
- Kongsgaard Syrah, Hudson Vineyard, 2009

We are pleased to announce that in a closely fought contest Oxford emerged victorious, taking the running total to 37 victories for Oxford vs 23 for Cambridge. The winning team will enjoy a trip to Maison Pol Roger in Epernay in the summer.
In an equally competitive match, the Wine Trade against the Wine Press, both teams put in a valiant performance. In this unprecedented competition an impressive 5 Masters of Wine and 2 Master Sommeliers from the Wine Trade faced an equally noteworthy Press team, boasting the foremost names of wine journalism. In the end the The Trade narrowly triumphed, with an impressive performance from Anthony Rose who was crowned the Top Taster. The teams were as follows:
Presse:
- Will Lyons - Wall Street Journal
- Oz Clarke
- Joe Wadsack
- Peter Richards MW
- Anthony Rose - Independent
- Matthew Jukes - Daily Mail
- Michael Schuster

Profession:
- Jasper Morris MW
- Arabella Morris MW
- Jon Pedley MW
- Alex Hunt MW
- Gearoid Devaney MS
- Christopher Delalonde MS
- Catriona Felstead MW

The judges for this historic event were Jancis Robinson OBE MW and Hugh Johnson OBE for the Varsity match and Anthony Hanson MW and Sebastien Payne MW for the Press vs. Trade match.
For lunch guests were served Pol Roger Brut Vintage 2002 en Magnum, Josmeyer Riesling Grand Cru Hengst 2008, Maison Joseph Drouhin Beaune 1er Cru Clos des Mouches Rouge 1999, in Methuselah, Château Nairac Barsac 2001 and finally, to mark the 60th anniversary of the match, Hine Grande Champagne 1953 Single Family Cask.
Following the 60th match, all previous blind tasters will be invited to a 60th anniversary reunion, held at Bonhams on February 26th; an occasion to honour this long-standing rivalry.
Started in 1953 by the legendary Harry Waugh, at the time working for John Harvey & Sons, the competition sponsorship was taken over by Pol Roger in 1992. It is a competition which has cultivated many wine press, wine trade as well as fine wine enthusiasts across the world and seen the practice of blind wine-tasting acknowledged as a worthy academic practice.
The fascinating history of this competition has now been documented in a stylishly informative and entertaining book, detailing the inception and evolution of the Varsity Blind Wine-Tasting Match through a collection of oral histories. Pol Roger Ltd, in conjunction with Anova book publishers, are pleased to announce the forthcoming publication of 'Reds, Whites & Varsity Blues: 60 Years of the Oxford & Cambridge Blind Wine-Tasting Competition', produced and edited by Jennifer Segal, in spring 2013. Notable contributors include Robert Parker, Michael Broadbent MW, Julian Jeffs QC, Hugh Johnson OBE, Jancis Robinson OBE, MW, Oz Clarke, Will Lyons, David Peppercorn MW, Serena Sutcliffe MW, Charles Metcalfe, Jasper Morris MW, Arabella Woodrow MW and many more.
Notes to Editors:
Champagne Pol Roger has been producing exceptional champagne for over 160 years. To this day the house remains small, family-owned, fiercely independent and unrivalled in its reputation for quality. Indeed, it is this quality which brought about Sir Winston Churchill's lifelong attachment to Pol Roger, who famously insisted "In defeat I need it, in victory I deserve it".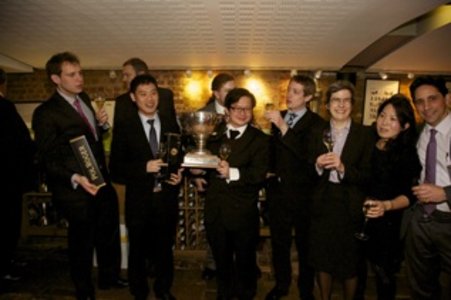 Close