19 January 2015
Blind tasting match bewteen the most prestigious French schools and universities - 16 January 2015
The Maison Pol Roger has been sponsoring and organizing for more than 20 years blind tastings among the most famous schools and universities, in France and England.

This year a high participation was recorded with 12 prestigious schools from Paris ("Grandes Ecoles Parisiennes"), meeting in two different sessions (16 and 23 January 2015) in the lounge of the restaurant "Le Théatre" in Epernay.

For the first session, on 16 January, the following schools were participating:

- ENSTA ParisTech
- ESCP Europe
- Université Dauphine Paris
- AgroParisTech
- Ecole Polytechnique
- ESTP Paris

The winning team was Dauphine, composed of three girls:
- Camille Compas
- Guillemette de Courtivron
- Sophie Vortemann

Camille Compas also won the individual contest.

We will give you further details concerning the different steps of this competition.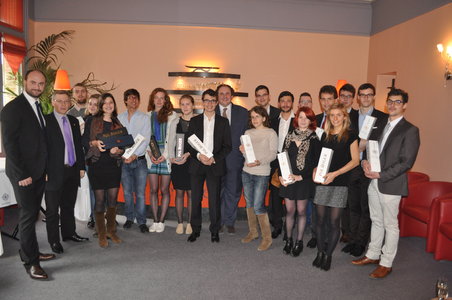 Close