29 May 2017
International blind tasting final


Pol Roger held the final of their International Blind Tasting Match between the members of the most prestigious British and French Business Schools and Universities in Epernay on Monday, May 22nd 2016.
The competing teams were:

Oxford with:
Domen PRESERN
Janice WANG
Jackie ANG

Edinburgh with:
Sarah SHERMAN
Owen MACNELL
Ben BERNHEIM
and ESSEC with:
Kieran FERRAGU
Eline HUET
Hélène DUCHAMP
The winning team was Oxford with 411,5 points, followed by ESSEC 328,5 points and Edinburgh with 327,5 points.
Hélène DUCHAMP, from ESSEC, nevertheless obtained the best score in the "white wines" category.
Janice WANG, Oxford, got the best rating in the "red wines" category as well as the best individual note. She was rewarded with a magnum of Sir Winston Churchill 2004;
The award ceremony followed the visit of the cellars.
The winning team received a magnum of Brut Vintage 2006, and the other participants a magnum of Brut Réserve.
Congratulations to everybody!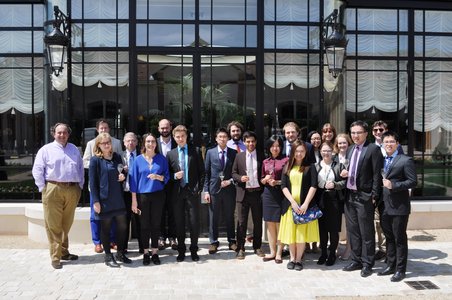 Close