5 February 2018
Blind tasting match between the most prestigious French schools and universities - February 1st 2018
The Lyon session of the 2018 tasting contest was held in the lounge of La Villa Florentine on February 1st. EM Lyon, ECAM and IAE Lyon were in competition, with the same programme as for the previous tastings.
EM Lyon (through its association "sup de coteaux") won the contest with flying colours and will join the other teams selected for the finals. This team was composed of Antoine BUSELLI, Nicolas SABET and Alexis KISIELEVOBKA who achieved the best score during the selection. Each one won a bottle of Brut Vintage 2009.
Alexis KISIELEVOBKA was offered a bottle of the famous cuvée Sir Winston Churchill 2006.

Congratulations!

The next regional session will be held on Thursday February 8th.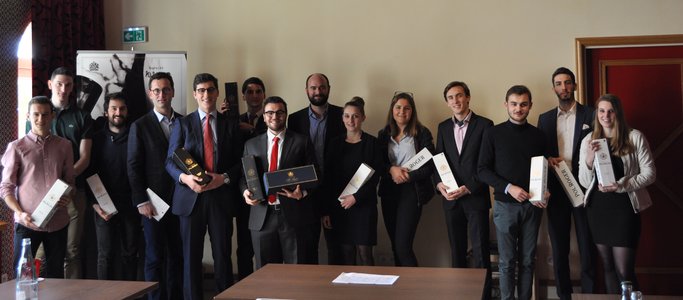 Close